Ballarat's Ash Watson reached new heights at last year's Surf Coast Century taking home the 100km crown in record time. In the seventh edition of the race, Watson finished in 8:16:50, eclipsing the previous record time by 28 seconds. That makes him a double Surf Coast trail running record holder, as he also holds the current course record for the Surf Coast Trail Marathon held in June.
With the Surf Coast Century upon on this weekend (21 September), Ash is back to have another crack at keeping his crown, but with more favourable conditions predicted (2018's conditions were a major battle), this year he's looking to go sub eight hours.
Event hosts, Rapid Ascent, caught up with Ash for a quick chat ahead of the ultra running extravaganza at Anglesea, Victoria.
1. When did you first compete in the Surf Coast Century Ash and how many have you done since?
Last year (2018) was my first time competing in the Surf Coast Century, and in fact my first time racing the 100km distance in general. I absolutely loved the course and event and have wanted to come back ever since.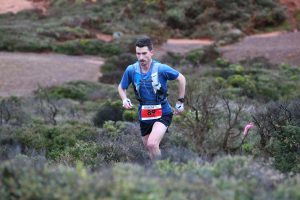 2. How's your training and prep going for this year's Surf Coast Century?
I'm happy with my preparation for this year's event, despite having to juggle training with raising our newborn. I've managed to get a good block of training done in the previous five weeks with weeks of 170 – 200km.
The past 12 months has been pretty consistent and with more experience over the longer distances and fine tuning things like nutrition, I think I'll be ready come race day.
3. Do you believe you can break sub 8 hours for the 100km Surf Coast Century?
Yes, I think so. That's my goal this year. I think there are a few things I can improve on from last year. Knowing the course, having a better nutrition strategy, and wearing better footwear will no doubt help and fingers crossed we get some better weather this year!
4. When did you do your first ultra and what got you hooked on the longer off-road format?
My first ultra was Comrades marathon in 2017 where I finished 25th. The idea of doing Comrades came as a joke on a long run one day with Steve Moneghetti when we said we would go over one year and race it together.
I had no intention of doing another ultra before that race but as usually happens in running, a week later, I was already looking for another to event to race.
5. What's the toughest ultramarathon event you've ever done?
Comrades. 20,000 runners and arguably the most competitive ultra-marathon in the world.
6. Have you had any major injuries during your career? If not, what is your secret?
Over the past 5 years I've been lucky and managed to stay mostly injury free. Having said that, I did develop a stress fracture in my sacrum in the beginning of last year which stopped me running for 12 weeks.
The most important things that have helped me is changing training shoes often, usually after every 800km for me. I also don't do as much high intensity training which also seems to help.
7. How do you keep pushing in a race when your body says no more?
For me, before I start, I tell myself that there will be moments during the race when I feel terrible and want to stop.
These are temporary however, and you will always come out better on the other side. I try to think of all the training that I've put in and how much I can enjoy it with friends and family at the finish.
8. Is ultramarathon a job for you or do you work full-time on top?
Unfortunately no, nor do I have any sponsors. I work full time as a Radiographer at the base hospital in Ballarat. Looking after a newborn baby also is a full time job!
9. What life lessons have you learnt from ultra-running?
You get out what you put in. This is not only true for running but all aspects in life.
10. What's the future hold for ultramarathon in your opinion?
Ultramarathon and trail running in general have grown hugely over past 5 years and I think it will continue. With more exposure to events like Western States and UTMB now, it's captured the imagination of many.
We are also lucky to have so many races available now to choose from. Australia is still lacking in a sense compared to Europe and America, but hopefully that gap will close.
Entries are still open for the 2019 Surf Coast Century until TUESDAY 8pm. It's not too late to enter the 50km, 100km or as a team of 2 – 4 . There is also the Trail Running Series happening teh following day (Sunday) with distances ranging from 9km to 23km
ENTER SURF COAST CENTURY HERE
ENTER THE TRAIL RUNNING SERIES HERE