Aggravated Assault
First up: what the hell is the use of a pretty darn good trail shoe if it's hard to come by, try and buy? Worse still, if you don't even know that it's in the market? When it comes to the Adidas Terrex Agravic I didn't, until I walked into Run Stop Shop in Melbourne. And my eyes lit up.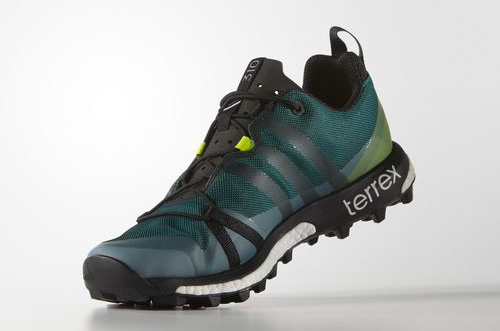 Spoiler alert: it's a top end performer. But who knew? So when I tell you it's a contender, you'd better be quick in your purchase because they are as rare as a heartfelt apology to an illegal Mexican immigrant by Donald Trump.
It's a common thing in the Australian market amongst bigger sneaker brands – the Nikes, New Balances and Adidas of the world – where their stock-in-trade units (footy boots, road runners, fashion) hoover up all the local marketing team's attention. The poor cousin trail models are begrudgingly taken on locally at brand-HQ insistence only to gather dust in a disinterested sales rep's car boot. If only they knew that trail running is one tenant of what researchers are now calling a 'megatrend' movement away from traditional team sports and towards individual, nature-based outdoor pursuits. Hello, trail running. Hello sales opportunity going wanting.
Anyway, away from the failings of big brands to recognise an emerging market (and do something about it), to the shoe, the sexy if hard to find beast it is. [Yes, I know you can order it online, but who'd do that without trying one on, no matter what a reviewer says! Ed.]
I went in with a notion that Adidas not being a mountain sports pedigree brand would fail dismally at off road. But then, overseas they play in the space much more and they do a handy football boot to boot.
With that in mind, let's start with the obvious on these suckers: the grippy sole. Lugs protrude handsomely, 6.5mm to be exact, and have been smartly designed.
There are enough of them to dig deep into all forms of terrain, but spread enough across the sole to drop mud clumps quickly. The forward lugs are tapered providing excellent up front toe-in and transition to acceleration. Further back they work hard for better control including laterally, when on the brakes and when bombing downhill. Interestingly, the compound is as sticky as any other on market and was created in collaboration with Continental, the technology mimicked and adapted from that brand's mountain biking tyres, including the shape of the lug. What works for one dirt warrior…
Moving through the sole, Adidas heralds its 'Boost' technology which most pundits agree delivers on its claim for better 'energy control', meaning you get a measured return of spring, enough to give increments of energy return but not enough to destabilize your foot on landing nor impinge on ground feel. This balance of bound and sensitivity on the foot strike is what for me makes the shoe a sure-footed choice.
In a way it is very much in line with the Salomon Sense Ultra – nimble, racy, with trail feedback providing confidence and grip nailing your cornering and downhill bombing. Where the Adidas excels further here is in giving a smoother ride than its competitor, assumedly courtesy of the Boost and some added EVA in the rear carriage.
Even so, it remains little stiffer through the sole than other more conservative trail runners, making them disciplined enough to take mountainside where a little 'platform performance' can help, but not so harsh as to give bruised feet over longer distances.
Beneath your feet, after all, is a 24.5mm heel/18mm forefoot rigging. This delivers a mid-range 6.5mm drop, perfect for those leaning toward better technical running form, but enough up back if you still get the lean-backs on tiring.
Inside the foot fits snug, without being restrictive and the overall comfort factor is high out of the box. This is one of those shoes that feels like it instantly connects with your foot becoming an extension of rather than an addendum to your appendage. Of course, the snugger a shoe, the more chance there is your particular foot won't agree with the shape, but I believe for most average Aussie slabs, (not too fat up front), the shoe will fit.
The ride is as mentioned fairly supreme, its only weak spot is super hard and flat surfaces that drag on – here the shoe can feel a little 'slappy', the overall undercarriage preferring more technical or soft ground underneath.
Lacing is solid in design. Despite looking a little weird, it seems to pull in where needed and give some where required. No issues there.
The rock plate in the forefoot is slim and flexible, but combined with the substantial outsole offers bomb proof protection from the hardest hits on the sharpest rocks, while still maintaining relatively good trail feel and torsional flexibility. If anything it can become to firm on the forefoot when running flats.
The Agravic is a seriously strong performer on most styles of Aussie trails. It's just aggravating that the try and supply equation is somewhat restricted – but check Run Stop Shop in South Melbourne (or online) as a first port of call.
---
VITALS:
Great for: technical trails, grip, racing, all round fun
Not-so-great for: if you want to try and buy them – they are hard to find once stock is out!
Test Conditions: singletrack, lots of technical, soft ground, rocky, approx. 125km
Tester: Chris Ord, Trail Run Mag editor
Tester Mechanics: mid foot striker, tends to more technical style running
RRP: $200
Website: www.runstopshop.com.au
---