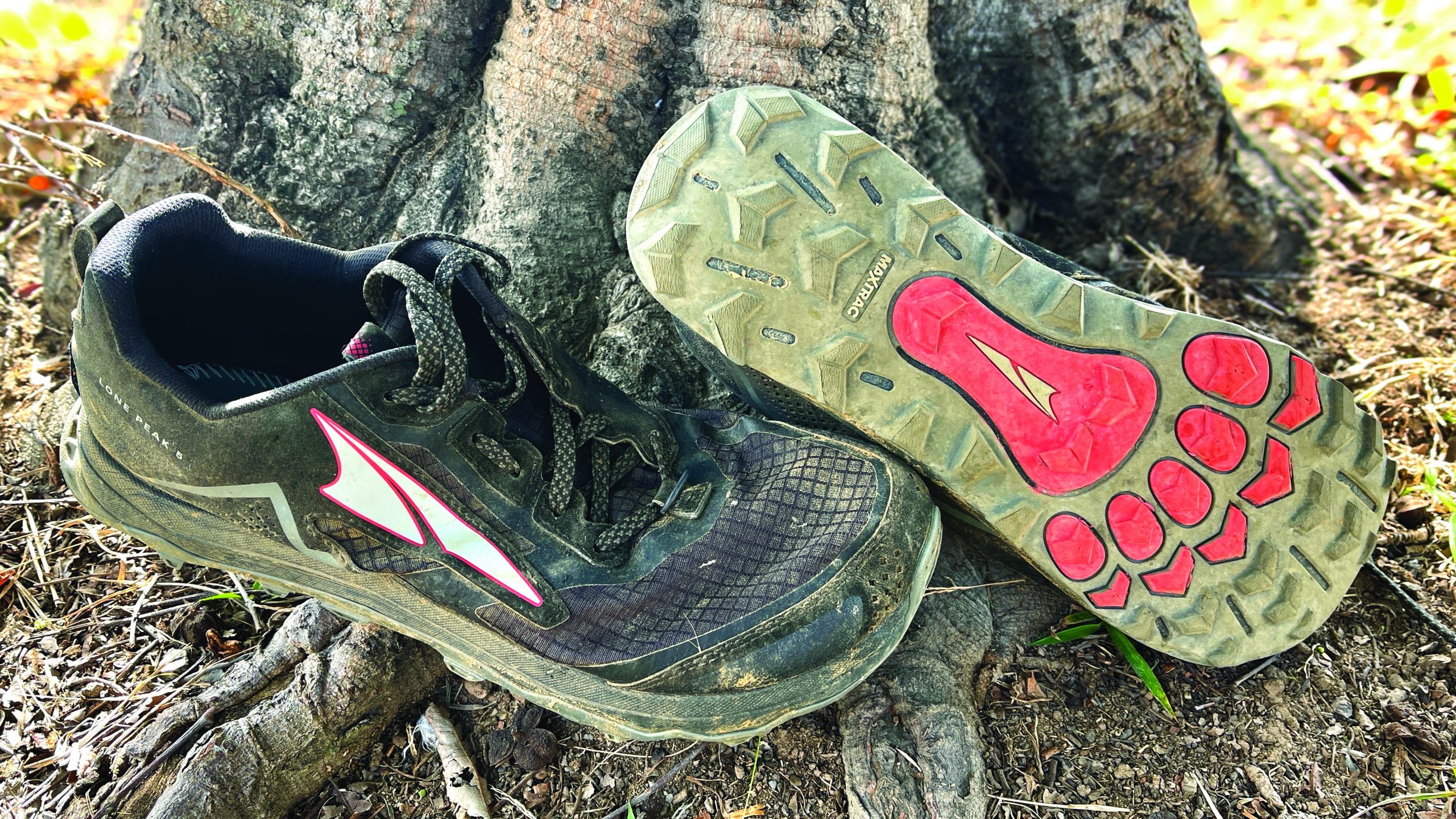 REVIEWER: KARL FORCEY
The Lone Peak is now 10 years old (the same as this magazine!), and it has come a long way in that time. Previous models have been reviewed on these pages before, and this shoe still has a legion of loyal fans. It is Altra's flagship trail shoe, mid weight and tough as nails. But does this latest iteration, the Lone Peak 5, still deliver the goods? I took them out to see for myself.
Before lacing them up, let's look at some of the updates for the shoe nerds out there. The Lone Peak 5 features Altra's signature wide toe box and zero drop. The MaxTrac outsole remains but with an enhanced tread pattern, and there's also an improved stone guard. The upper has been cleaned up considerably, with laser-cut panels replacing the stitched leather reinforcements, and there are laser-cut drainage holes up front now, too, which replace the old mesh. The stack height is still 25mm, and it still has the same gaiter trap and rubber heel flipper thingy on the back end. The heel loop on the back has finally been made large enough to get a finger into – a small but welcome touch.
If you have made it this far and are thinking, "Meh!" – I wouldn't blame you. These are all fairly cosmetic changes. So, why would you bother with the Lone Peak 5? Two words: Ego midsole.
Altra's Ego midsole is the big reason to upgrade here, or maybe bring you onto the Lone Peak bandwagon. Previously, the midsole was made of EVA material, which was good, but not like this. Ego has been used in Altra's Escalante road shoes for a while, so it's good to see it make it into the midsole of their biggest-selling trail shoe. I have worn the previous version, the 4.5, so I was excited to give these a run.
Lacing up, I got a great fit from these straight out of the box. For some Altras, I've had to give them a few goes to get a good heel lock, but not this time; they were snug and felt great. My first run in these was actually for an event: The Tiger Claw VERTual run, where you had to run 8,000ft of elevation in less than 20 miles. It was an American event, so don't get me started about the imperial measures. I chose Brisbane's notorious Chainsaw Loop for this and set out. Firstly, the Lone Peak 5 handled the steep uphill with ease. The trail was dry and gravelly, but the chevrons dug in when going up and going down. There was no heel slip, either, and the midfoot stayed firm around my foot, preventing my toes from hitting the front of the shoe. This was a great first outing, and I felt confident recommending these for long, hilly runs and hikes.
What about more sensible runs, though? Runs where you will be pounding the dirt for hours? This is where the Ego would shine or not, surely?
The following weekend, I took the Lone Peak 5 to the Brisbane Valley Rail Trail. The BVRT is a flat, unforgiving trail that passes through some of south-east Queensland's most beautiful rural countryside. I laced up on a beautiful Saturday morning and did one of the more picturesque northern sections between Blackbutt and Linville for a total of 46km. This was where the Lone Peak 5 made me smile. They gave amazing comfort without feeling squishy or spongey. At the same time, they felt fast and responsive, providing good energy return. Having your cake and being able to eat it, too, perhaps? Being fast and responsive yet comfy and soft is like the holy grail of running shoes, and these were the closest I'd come so far to that. The comfort is something you would expect from a shoe with a higher stack, which often makes for a cumbersome ride. At the end of the run, my feet felt like they could go the rest of the day with ease. The rest of my body wasn't so sure, but inside my dark slate-and-red Lone Peak 5s, everything was still happy, comfortable and pain free. There were a few puddles around after recent rains, so I was sure to go jumping, splashing and sliding, too. As advertised, they stuck well in the mud, and they drained fast.
So, this isn't a radical redesign for the Lone Peak, and after 10 years, you wonder how much more the shoe can be improved. The small changes are welcome, but the addition of Ego is what makes this shoe worth reviewing again. It has taken the tough, dependable, much-loved trail beast and made it heaps comfier without adding any weight. What's not to like?
The Altra Lone Peak 5 is available from Altra's online store or in your favourite trail outlet. The men's is available in dark slate/red, blue/lime and lime/black. For ladies, you can choose from plum, ice blue or khaki with Altra's Fit4Her.
Vitals:
RRP: $249.95 AUD / $279.95 NZD
(Prices from Altra's Australian website and major NZ stockists)
WEBSITE: altrarunning.com.au
CONDITIONS: Shoes provided for testing by Altra Running Australia